WGS Fly Fishing Local Destinations
Park City, Sundance, Salt Lake City, Heber & Provo Areas
Visitors to Utah come here for a multitude of reasons, not just the spectacular Utah Fly Fishing! Skiing, mountain biking, golfing, hiking, camping and much much more. One of the more popular destinations in our beautiful state is Park City, Utah. Park City offers a unique combination of easy access and remote appeal. At times you feel like you're hundreds of miles from the civilized world…yet you're just 36 easy miles from Salt Lake City International Airport – an airport, we might mention, that plays host to 17 airlines and 962 daily scheduled flights. Park City has a turn-of-the-century character, as established by silver miners of old, with a modern flair. The areas dining, entertainment and accommodations are alive and well. A simple stroll past the shops, galleries and restaurants on Park City's historic Main Street is all it takes to bring back the romance of the Old West. We can show you how to have a great vacation and incorporate Park City Fly Fishing options.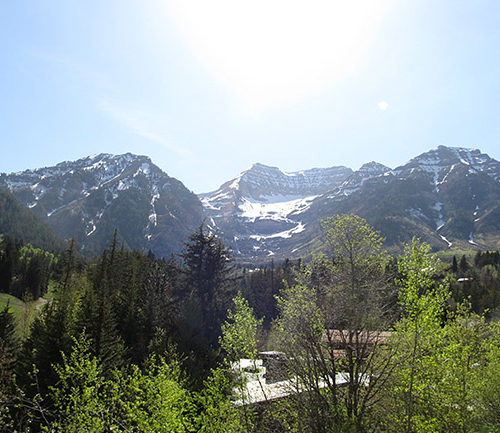 Experience the trip of a lifetime enjoying phenomenal Utah Fly Fishing with Wasatch Guide Service and world class accommodations staying at Robert Redford's Sundance Resort! In 1969, Robert Redford purchased the land that is now known as Sundance Resort with the vision of a community committed to the balance of art and nature. Since that time Sundance has grown into a destination resort with a difference, its original values still intact. The rustic simplicity of Sundance Resort is graced by 5,000 acres of protected wilderness at the base of 12,000 ft. Mount Timpanogos. Wasatch Guide Service offers fly fishing guests the highest levels of service and personal attention from our veteran, experienced fly fishing guides.
Sundance Resort Activities
Year-round world class fly-fishing on the Provo River is just one of many activities that you can experience while staying at Sundance Resort. Many other options for recreation are available for the non-fishing members of your group or during your time away from the water. In the summertime enjoy beautiful scenic lift rides, hiking, horseback riding, river rafting as well as mountain biking, road biking and even cruiser bikes. In the winter experience skiing, snowboarding, cross country skiing and snowshoeing amidst some of the most spectacular mountain vistas in the state.
Luxury Accommodations
Discreetly tucked into the mountainside, Sundance's rustically elegant mountain cottages are designed to echo the simplicity of the natural setting, featuring rough sawn beams, stone fireplaces or wood stoves. Guests may choose to stay in a mountain home, mountain suite, Sundance suite or studio.
Fine & Casual Dining
Sundance features award winning dining in The Tree Room, Sundance's fine dining restaurant and the Foundry Grill, noted by Zagat's for its "brunches to die for." The Tree Room features seasonal mountain cuisine at its best in a romantic atmosphere, with candlelight and soft illumination accenting the Native American Art and Western memorabilia from Robert Redford's private collection. The Foundry Grill is a casual, three-meal-a-day restaurant with an incredible view of Mount Timpanogos. The Sundance Owl Bar features the original 1890's Rosewood bar that was frequented by Butch Cassidy's Hole-in-the-Wall gang, which was moved to Sundance from Thermopolis, Wyoming. Choose from these fantastic options while sharing stories and memories from a great day on the water.
Sundance Resort Amenities
Sundance provides the perfect blend of art, nature, and recreation. In addition to mountain activities, explore the other treasures of Sundance, whether creating your own piece of jewelry or pottery in the Art Shack or enjoying a hot stone massage in our Native American-inspired Spa. For more information call, 801-225-4107 or visit Sundance Resort.
Convenient Location
From Sundance you are only a five minute drive to the world-renowned Provo River, and just a few minutes more to any of our other rivers or private fly fishing ranches. On each day of your adventure you and your party will be picked up at Sundance and led to the beautiful trout-filled waters of the day. Private guided tours are available in 4, 6, or 8-hour trips. Every trip includes transportation, guiding, all fly fishing equipment, flies, drinks and snacks. Scrumptious stream side lunches are included with 8-hour excursions, compliments of the Sundance Deli. No experience necessary, but a fantastic experience guaranteed!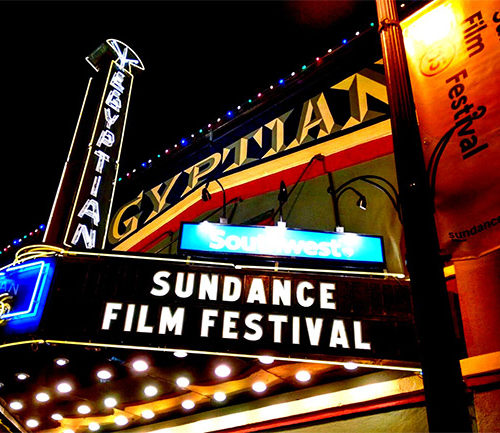 Park City and Wasatch Guide Service
Park City features prominently in Utah's slogan "the greatest snow on Earth," but the town is not just a heaven for skiers. By May, that beautiful snow melts and fuels the pristine rivers in the Wasatch Range, including the beautiful Provo River a world-class trout fishery that we are lucky enough to call our home water.
We offer our Park City client's full or half-day trips on the Provo River. When you get the chance to fish the Provo River and be in the beautiful Wasatch mountain range, the opportunity to catch fish is only a portion of the reward.
Wasatch Guide Service has been servicing clients in the greater Park City area since our service opened in 2001. We are very familiar with the Park City lodging options and are willing to give our guests front door pick up and drop off treatment.
On your next trip to Park City, we hope you will book a trip with Wasatch Guide Service and see the beautiful mountain range from new point of view that not everyone gets to experience.
Complimentary Activities in Park City
In addition to world-class fishing, Park City boasts some of the best places for hiking, mountain biking, and climbing. In fact, Park City's trail system is the first of its kind named a gold-level ride center by the International Mountain Bicycling Association. Without the cost of a lift ticket, you can find your favorite trail in the hundreds of miles of trails.
If you'd rather, you can combine cardio with a mental workout and take a guided nature walk of the preserve, learning about the flora and fauna as you work up a sweat. There is also the EcoCenter's rock climbing wall for climbers, yoga classes for yogis, plenty of trails for hiking, scenic chairlift rides, standup paddle boarding, and horseback riding.
Park City Restaurants
After your day on the river, Park City will inundate you with a myriad of food options. There is truly something for every palate. Many of the restaurants are situated on the Historic Main Street and are in walking distance of each other, making it easy to peruse the choices of delectable delights. From sushi to steakhouse, Park City even has a restaurant that beat out the Boston lobster kings for best lobster roll in the world!
Park City Accommodations
Park City has hotels with some of the most unique properties, offering a variety of options in both style and price. After all the fishing you'll be doing, you are sure to find a comfortable place to rest that meets your needs and preferences. Almost all the lodging is conveniently placed within either walking distance or a short, free bus ride from all the restaurants, bars, or shopping Park City is known for.
Surrounded by mountains that rise to more than 10,000 feet (3,500 meters), the capital city of Utah, Salt Lake City, reflects a remarkable combination of history, culture and recreation. Salt Lake was settled in 1847 by pioneers seeking an escape from persecution, the city is the worldwide center of the Church of Jesus Christ of Latter-day Saints, also known as the Mormons. Salt Lake City's Temple Square can be appreciated by all for its beauty and historical significance, as well as for the religious significance it holds for Mormons. Temple Square is home to the historical Salt Lake City Temple and Tabernacle (home of the famous Mormon Tabernacle Choir). Located nearby are the Family History Library, Museum of History and Art and Beehive House. Each is a living symbol of the industriousness and commitment of the original pioneer settlers.
Mountain vistas with snow-capped peaks and seven year-round resorts within an hour's drive from Salt Lake City's international airport provide non-stop recreation. In the winter, locals and visitors alike flock to the destination resorts to ski and snowboard. Nearby resorts include Alta, Brighton, The Canyons, Deer Valley, Park City Mountain Resort, Snowbird, and Solitude. A visit to these or any other Utah resort will lead you to discover that the saying is true – Utah really does boast of the Greatest Snow on Earth. If you are here for the skiing, that doesn't mean you can't fly fish. Utah's fishing season doesn't close and is open year round. In fact some incredible Utah fly fishing can be had in the winter months. It can be a great combination to ski powder in the morning and fish dry flies in the afternoon! In the summer, the same resorts welcome visitors seeking outdoor adventure or pampering. The resorts offer splendid lodging, outdoor dining, fields lush with wild flowers and more hiking and mountain biking than you could possibly cover over just one visit.
The 2002 International Winter Olympic Games were held in the canyons and resorts close to Salt Lake City. The games were proclaimed by many to be among the greatest ever. Ski and snowboard trails, ice-skating venues, a unique Winter Sports Park and even a State Park were all part of the action. Although the Olympics are over, you can still enjoy a run on some of the same trails used in competition by the Olympic athletes! At the Utah Winter Sports Park you can even ride the bobsled and luge track, and imagine yourself as a world-class competitor.
Salt Lake City is about more than winter and summer outdoor activities! You'll find a large and growing lodging base (including several new luxury hotels), endless shopping (you'll love our malls!), wonderful dining, symphony, opera, ballet, museums, professional sports teams and the University of Utah – and Salt Lake is also the gateway to 10 national parks within a day's drive.
Many visitors first come to Salt Lake on business. Salt Lake City has quickly become one of the nation's premier cities for technological development. Salt Lake City's robust central business district includes the Salt Palace Convention Center, Gallivan Plaza, Clark Planetarium and the Romanesque-styled Salt Lake City and County Building.
Getting around town is easy, with the help of a well-run mass-transit system. Buses and the TRAX light-rail system run regularly, to all major destinations within the Salt Lake valley.
Salt Lake combines the amenities of a major metropolitan area with the friendliness of a small, Western city. Hosting the Olympic Winter Games of 2002 enhanced the community's profile as a world-class travel destination, while showcasing Salt Lake as an unspoiled, family-friendly destination. Whether you visit for a convention, skiing, shopping, sightseeing, or outdoor recreation, you will find that Salt Lake is the right place in any season. Indeed, all the comforts of home await you in Salt Lake City. While you are here, let us show you some of the great fly fishing that is a short drive from the city. You will find out why we think Utah has not only the "greatest snow on earth" but also some of the greatest fly fishing on earth!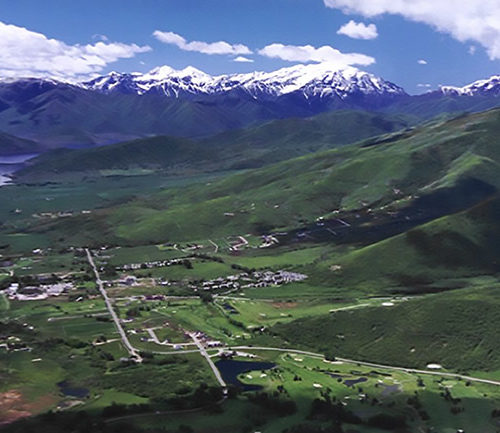 Heber City Utah is located in a beautiful mountain valley just a short 15 minute drive from Park City and about 40 minutes from Salt Lake City and Provo. The Heber Valley is on the opposite side of Salt Lake City on the back side of the Wasatch Mountains. Heber offers outstanding year-round outdoor recreation including golf, fly fishing, boating and water sports, plus skiing and other winter sports. In summer, temperatures are cooler than Salt Lake since it is higher elevation. In winter, abundant snowfall makes this a paradise for winter recreation.
Heber is a great place to headquarter if you are coming to Utah for some fantastic Provo River Fly Fishing. The middle section of the Provo River flows right through the Heber Valley and there are lodging options that will allow you to walk right out your door and start fishing. The lower Provo is only a short drive away and many other rivers and lakes are within a short distance. Heber offers several outstanding resorts and romantic bed and breakfast inns perfect for a fly fishing and recreational vacation.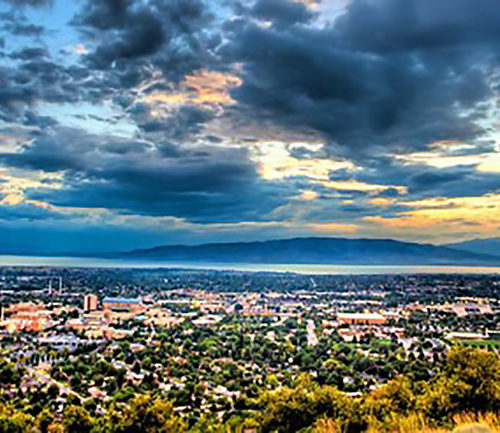 Provo is the first major metropolitan area south of Salt Lake City. Major attractions in the Provo area include Brigham Young University and Sundance. For visitors looking for lodging in close proximity to Salt Lake City, the Provo River or other area attractions, Provo can be a very convenient option. The lodging options in the Provo area are plentiful. There are choices for all budgets and travel styles. Venture outside of Provo for even more choices. Whatever your reason for visiting we are anxious to assist you in finding the best lodging property. Use the map on the right to get a closer look at the cities and their relationship to the Provo Area.
What Some of Our Guests are Saying
""I am an attorney in San Francisco and an avid fly fisherman. I have fished with guides throughout the lower 48 and Alaska on numerous occasions. I think I have a good sense of what it takes to be a good fishing guide. The best guides have three main qualities. First, they are excellent fishermen in their own right. Second, they have a unique and specialized understanding of the area being fished. Third, they are great 'people' people.

I am sure there are many guides in the Provo area with great fishing skills and a good knowledge of the Provo River. I am not sure there are any who surpass Jeremy. Having fished with Jeremy on many occasions over the past several years, I have come to appreciate not only his skills as a fisherman, but the depth of his knowledge of the Provo fishery. I have never failed to catch fish, and my colleagues who have joined me have been similarly successful. My son still talks about how much fun we had with Jeremy a few years back.

What sets Jeremy apart, however, is what typically separates great guides from good guides. That is the service ethic. Jeremy is always on time, prepared, friendly, and professional. He is willing to stay late when we are into a good rise and is always patient when we mess things up. His enthusiasm is genuine and his commitment to the sport is infectious.

As you can no doubt tell, I am a big Jeremy Jones fan. I have recommended him to friends who have considered fishing in the Provo area.""
"Jeremy gets it!! He makes the flyfishing experience totally fun. While he respects the beauty of the environment and how it frames the fly fisher's experience he never fails to remember that we want to catch fish! The bigger the better and the more the merrier. I have travelled all over North America to flyfish. I have never found a better guide. He works tirelessly to make his customers have a great experience. You would be lucky to have him representing you."

Wayne Mason
"You will be working with a known quantity in Jeremy Jones. He knows the fish personally…I am convinced. He has guided my children, professional colleagues, friends and neighbors for the past 8 years. It is rare in life to find someone you absolutely know will not disappoint. Jeremy makes the flyfishing experience very personal. My future fly fishing needs and the needs of those who are within my sphere of influence will go where Jeremy goes."

Danny Humphery
"I have been fishing with Jeremy for years and have NEVER been skunked with him. He has the local knowledge of the rivers and knows what rigs work best for each time of the year. I enjoyed his ability to "teach" me how to fish, rather than just saying "throw it there". Jeremy taught me how to read the water and work the river effectively. MOST OF ALL, Jeremy, has fun doing what he loves and it shows in his personality and passion for fly fishing. I cant say enough good things! GO FISH!!!"

Matt Haney
"Thanks so much for your help and professional demeanor throughout. We are sitting at Sundance at the owl bar having a drink waiting for our table at the tree room from the reservation you made; reflecting on a perfect day.
I caught 25 or more and roiled a bunch more. Ruth on her first fly fishing trip caught a dozen at least and broke off even more. We've got four on ice soon to be consumed. Ryan was the BEST …..patient and a very good teacher. What a day we can't wait to come back. It's not often that a business exceeds your expectations but WGS certainly did! Thanks again."

Mike & Ruth Smith
"My 16 year old son and I went fishing with Jeremy Jones on Sunday, December 22nd. The experience was so great that we booked a second outing the following Thursday (the 26th). The setting was amazing, the fishing was great, and Jeremy was on a mission to make sure that we had a great experience. We have fished with a number of different guides over the years and Jeremy is undoubtedly the best! He was fully engaged the entire time, constantly working different flies and patiently coaching until we were completely dialed in. Jeremy clearly knows what works on the Provo and he tailors his coaching to each individual. On top of that, he's just a cool guy to hang with on the river. I would definitely recommend WSG and plan on being a return customer myself."
"I highly recommend Wasatch Guide Service. I am an experienced fly fisherman, but I have never before had the good fortune to have lessons from such consummate pros - who also happen to be gifted instructors. I immensely enjoyed and benefited from my two half-days of fly fishing on the Provo in late October, one guided by Jeremy and the other with Larry. Both were memorable days that provided me with invaluable lessons that will most certainly benefit me as I fly fish in the streams of the Catskill Mountains in upstate New York. Weather conditions were a bit extreme on the Provo, with wind one day and snow the next, but I don't recall either of Jeremy or Larry even mentioning the weather, as both were totally focused on guiding me to several beautiful native rainbows. An experience I highly recommend to anyone who loves to fly fish."
"My friend and I were recently visiting Utah and had some time off to do some fishing. We talked to Jeremy about all of the trips that WGS offered from local to remote streams. We ended up doing a half day trip on the Provo with Clarence and then we were able to book a whole day remote float trip on the Green River in Wyoming with Steve. Both guides were extremely knowledgeable about the waters they were guiding and where the fish would be holding. We couldn't have been taken care of much better than we were. The fishing was fantastic on the Green River and we caught multiple fish over 15 inches and a few in the 20 inch range. The weather was not very cooperative, but our guide Steve was up to the task, rowing his butt off to make our drifts look irresistible to the trout. Jeremy and his staff were awesome and I couldn't be happier with Wasatch Guide Service. I would definitely recommend checking them out."
"Our outing with Wasatch Guide Service could not have been better! From the first contact with Jeremy he was helpful, patient and professional. Communication with him was superb! We were well informed of expectations and directions to the location for fishing. To top it off, we had a guide who is a legend in the sport (although we did not know about Larry's fame and renown skills until after we were gone.) He is truly kind and humble!

I had never been fly fishing but Larry was a patient and wonderful teacher.....in the end I caught 12 and my fiance caught almost that many 🙂 He had actually been before and thought this was a great day on the water as well. Call Jeremy and plan a day in the wonderful Provo Canyon enjoying the great outdoors!"
"Jeremy is THE GUIDE you want to hire if you're going fly fishing in Utah. Our trip was amazing. When we arrived, Jeremy took the time to provide all our equipment, show us how to use it and make sure we were 100% comfortable at all times. He's a skilled and passionate angler and we learned a lot about fishing in general, the history of the area and the best strategies to fly fish. He was also very patient and instructed us on how to use the fly rod, cast and was by our side helping us all day. It was so much more than just fishing and was one of the most memorable outings our family has had in a long time. We couldn't recommend Jeremy more. He's professional, on time and an absolute pleasure to fish with. Thank you!"
"My dad and I wanted to take a guided fly fishing trip while we were in Utah. I contacted 4 different guide services and Jeremy was the best. He answered both the questions I asked and the questions I didn't think to ask in a professional and laid back manner. Jeremy made booking easy with fair prices, and he gave us a discount for having our own waders and rods. Jeremy's knowledge and accessibility helped instill a sense of confidence in a successful trip. At the end of the day Jeremy called us to see how the trip went.

Our experience on the Lower Provo was great. Our guide, Larry, was very knowledgeable. Larry taught us techniques and provided tips that helped us to catch so many fish that we lost count and the average size was about 18 inches.

I was impressed with the service and care displayed in order to make sure that our trip was the best it could be. Next time I get out to the Provo area, I will be looking at a trip with Wasatch Guide Service."
"My 20 year old son and I have fished with Jeremy and his other guides many times. These guys are professional guides but they are also nice people to spend a day on the river with. They are extremely patient with the less experienced and are always willing to share their knowledge of the sport and the trout ecosystem. We always have an enjoyable experience and each time we leave, we are looking forward to the next opportunity to come back."
"Excellent full day of fly fishing on the Provo River. Doug, Mike & Steve are three superior guides. We had 5 I shine with 3 guides, outstanding. No matter what level you are as a fly fisherman or fly fisher woman, Doug, Mike & Steve catered to your ability. The time they spent with our 2 wives was unmatched. Personally, Doug challenged me by teaching a number of casting techniques in some difficult water on the Provo. By the end of the full day, we all felt that Doug, Mike & Steve were long time friends! We, Robin, Brad, Don, Rhona and myself, highly recommend Jeremy and his team of Guides! Superior experience!"