Our Mugshots
Located in the scenic Wasatch Rocky Mountains of Utah, Wasatch Guide Service was founded by Utah locals and is made up of some of the best fly fishing guides not only in Utah but anywhere.
One of the West's premiere fly fishing guides, Jeremy Jones has been fishing and guiding Utah Rivers and streams for the past twenty years. After being introduced to the sport, Jeremy quickly found his niche and has been running local guide services for the last seventeen years, managing an average of 12 to 20 guides each season. As a result, Jeremy has developed relationships with and recruited the best guides in the area.
Jeremy's commitment to providing a memorable day on the water has resulted in yearly repeat clientele from all over the country, as well as strong recommendations from top resorts and destination management organizations, such as Sundance Resort, Stewart Mountain Lodging, Stein Erickson, Montage Deer Valley and Grand America. Jeremy also has managed the guide service for Sundance Resort over the past fifteen years.
Jeremy has been featured as an expert in publications such as The Drake Magazine, Sunset Magazine, Utah Valley Magazine, High Country Anglers, the Salt Lake Tribune, Daily Herald, and the Angling Report.
Jeremy is most at home when he is on the water and close with nature. As a guide, nothing gives him more satisfaction than watching a client fall in love with the sport. A native of Utah, Jeremy is a strong advocate for conservation and protection of local Utah Rivers and streams.
Whether you are an angler that loves to sight fish to big rainbows, or an angler that loves casting dry flies to hot eager browns, he will put you on to fish. A day on river with Jeremy is a day of fly fishing you'll never forget, guaranteed.
Michael Glenn is beginning his twentieth season as a guide on Utah waters. Originally From Idaho, Mike came to Utah to attend school and immediately was drawn to the famous Provo River. His love for the sport somehow turned into a career, to the dismay of fish everywhere. Mike is an accomplished fly tier who hand ties all of his clients flies specifically for their guided trip. He is an expert at reading water, and loves teaching clients what to look for, which might also include a streamside entomology lesson. His relaxed style of instruction, and a quick witted sense of humor is what makes him such a popular guide. In 2005, Mike was honored with the "Fly fishing guide of the year" award by Utah Outdoor magazine. His other interests include Golf and "anything outdoors".
Clarence Beavers has been fishing the waters of Pacific Northwest and the Rocky Mountains for salmon, steelhead, and trout for over thirty years. He first cut his fly-fishing teeth in southern Oregon boulder bounding commando style up and down the banks of the famed Rouge River and the Umpqua's North Fork chasing summer steelhead. His addiction to large trout has led him to make some interesting decisions in life. Some of which have ended with him flailing through large sections of whitewater in shorts and sandals in an effort to land "the one". Another of those decisions led Clarence to Utah where he immediately set about to find Rocky Mountain trout of steelhead like proportions. Clarence's passion is fly-fishing. His fishing travels have cast a wide net of experience that has drawn in successful angling techniques and methods from all over the west, for many different species. Clarence has tweaked and tinkered with the presentations, patterns, and gear used to catch bass, salmon, carp, bonefish, and others, and applied these modifications to his pursuit of Utah trout with great success. Clarence's most endearing quality as a guide is not his professionalism, his knowledge of the sport, or his ability to connect with his clients, but his genuine interest in your fly-fishing experience. Clarence want's you to have fun, catch fish, and learn something you didn't know about the resources and the fishery your enjoying.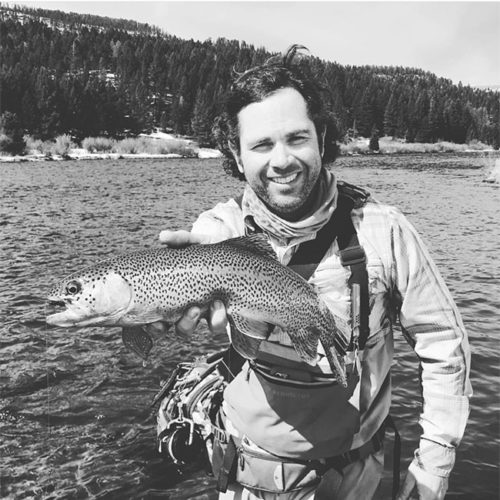 John Patching, at the young age of seven years old, was drawn to the art of fly fishing. He soon discovered he had a natural talent for fishing and an insatiable desire to learn all he could about the sport. He spent his youth fishing the rivers of Northern California such as the American River, Sacramento, Putah Creek, Yuba River and more. In his later teens, he moved to Utah where he began guiding on the Provo River. John has always had a great appreciation for the outdoors. While living in Utah, he fell in love with the mountains and skiing. He began working full-time at a ski resort and still guided on the Provo River and surrounding waters whenever opportunities arose. After a decade of skiing and working in the mountains, he finally decided to follow his heart and passion by returning to the river as a full-time fly fishing guide. John has a heritage of fly fishing and is related to several artists including the great fly fishing artist, Frank Sawyer. He's proud to follow the traditions of his ancestors.
John's an expert at reading rivers and knows the entomology of the aquatic insects who live in the waters. He meticulously hand ties his own flies so each one is precise. He's also a patient person who enjoys teaching others about fly fishing in a laid back style. John wants others to experience the joy of fly fishing as much as he does. His goal as a guide is to make sure each client has a positive experience that turns into a great memory. No matter the season, John stays updated on the rivers so he's always one step ahead of the fish.
Born in Ohio, Dave fell in love with fishing at a young age. Starting out fishing small ponds for Bass and Bluegill. It wasn't until he moved to Utah that he fell in love with fly fishing. Fishing local waters like the Provo and Weber rivers, as well as smaller more remote waters. Dave loves sight fishing for big browns with streamers and dries. His passion is not just for Trout, chasing warm water species such as Bass, Pike, and Musky on the fly. Dave's passion for guiding came naturally his calm cool attitude is contentious and he will make sure that you have the best day possible on the water weather it be nymphing for big fish, sight fishing with dries in the summer, or stripping streamers at night. When Dave is not on the river he can be found behind the vise tying fly's, backpacking for high mountain brook trout, or just enjoying life with his dog Skagit.
Neil Richards has been fishing since the moment his father taught when he was about two years old. From rivers, lakes and even the smallest streams he fell in love with it all. Neil loves the challenges fly fishing can throw at you; which makes the reward that much sweeter. Neil is a Utah Native and graduated from Utah State in Business Management, with a Minor in Recreation. This will be Neil's 6th season guiding and he couldn't be happier. Neil grew his passion for the art of fly fishing by spending countless hours on the rivers and lakes. To Neil, its not just about catching, but enjoying nature and respecting our beautiful country. Neil picked up the skill of fly tying to explore what the fish may be feeding on. Fly tying is unique to Neil because it gives him the opportunity to create a fly that may be irresistible to the fish. It is always fun to catch a nice brown on something you created. Neil enjoys teaching others on the river and loves to see the smile on their face when they get a big hit. Also, Neil expresses the concern to his clients why it is important to following through with a proper release. Respecting our rivers is something Neil takes very seriously. You can find Neil on the water almost every weekend during the summer, but when fall rolls around he occasionally sets the rod down and enjoys his weekends chasing big game and waterfowl. If Neil is not on the river, you can catch him in the marsh or in the hills. Can't wait to hit the water with you soon!
Julian Riley is the wild card of Fly Fishermen. He has an amazing level of patience for beginners and can rapidly turn into a cheerleader / target NetMan for the most experienced. Julian holds Master's Degree in Education and is co-employed with a private University (BYU). Julian loves that fly fishing is an escape from the day to day dealings and always provides new challenges. Julian prides himself in his family and loves fishing with his kids and wife. Making up songs about fish, riding his net like a stick horse and kissing fish goodbye on the release are all things he does to make fishing FUN! Julian Riley is the wild card of Fly Fishermen!
Kennie started his fly fishing career at the age of 7 watching fish one day in the Kid's Canal eating hoppers. He ties one to a hook, caught a fish, and it was all down hill from there. Kennie was the kid who if there was a creek, river, pond or puddle he wanted to find out if there were fish in it. He guided full time for 12 years before starting Salt Lake Fly Fishing Company. Kennie spends around 230 days a year on local waters following fish. In the winter he is a backcountry snowmobile guide, and the spring and fall he loves chasing fish in saltwater flats. Kennie loves teaching and watching people fall in love with fly fishing. If he's not 'working' you'll find him on a river.
Been fishing ever since I can remember, and seriously fly fishing for the last 17 years. I love fly fishing for different species on the fly and currently am trying to catch every species in the state of Utah. I am to 27. With about 5 more to go. I love getting to see people catch their first fish on a fly. And I enjoy guiding because it allows me to meet people from all over the world, and share something as fun and as exciting as fly fishing with them.
Jake's passion for fly fishing all started from spending all his free time in the Uinta's fishing the small streams and lakes with a fly. When a friend took him fishing to Idaho he knew he found something to dedicate his life to pursue. Now you can find him in many of the western states chasing a varied species of fish from trout to warm water fish. He loves the sport and the areas it takes him too. Along with the people he meet's and fishes with. He works hard to get them on fish and help them understand what there doing to get the most out of there experience and have fun doing it.
Erik Hogan has been a flyfishing guide in Utah for almost 20 years. Erik moved from Califoria to ski the greatest snow on earth and ended up staying for all other outdoor activities Utah has to offer. Erik has fished from Alaska to Florida and guided throughout Utah and Southwestern Wyoming. For 13 years Erik guided on Utahs' Green River.When he's not guiding fishing trips Erik is either skiing or training retreivers for Waterfowl and Upland Bird Hunting.
Gilbert Rowley is a fly fishing enthusiast that loves to share his knowledge of the sport with others. He is a Utah native and has a vast knowledge of the areas world-class rivers. He has appeared on the outdoor adventure show "Hooked on Utah"as one of the premier guides on the Provo River. Gilbert graduated with a Bachelor's in Fisheries and Aquatic Science from Utah State University. Among other skills, he is a contract fly designer for Rainy's Flies and has designed many flies that fish can't seem to resist. Photography and entomology are among his favorite aspects of the sport, and he believes that with the right tools and instruction anyone can learn to love fly fishing.
Derek grew up in Montana, where he began fishing around 5 years old with his dad and brother. Early summers were spent outside chasing fish and his interest in the water has brought him around the world, from Malaysia to Alaska to New Zealand, where he began guiding. Currently based in Salt Lake City, Derek enjoys his dream job as a guide from spring through fall. Painting, sculpture, and playing sports occupy his time when he's not on the water.
What Some of Our Guests are Saying
""I am an attorney in San Francisco and an avid fly fisherman. I have fished with guides throughout the lower 48 and Alaska on numerous occasions. I think I have a good sense of what it takes to be a good fishing guide. The best guides have three main qualities. First, they are excellent fishermen in their own right. Second, they have a unique and specialized understanding of the area being fished. Third, they are great 'people' people.

I am sure there are many guides in the Provo area with great fishing skills and a good knowledge of the Provo River. I am not sure there are any who surpass Jeremy. Having fished with Jeremy on many occasions over the past several years, I have come to appreciate not only his skills as a fisherman, but the depth of his knowledge of the Provo fishery. I have never failed to catch fish, and my colleagues who have joined me have been similarly successful. My son still talks about how much fun we had with Jeremy a few years back.

What sets Jeremy apart, however, is what typically separates great guides from good guides. That is the service ethic. Jeremy is always on time, prepared, friendly, and professional. He is willing to stay late when we are into a good rise and is always patient when we mess things up. His enthusiasm is genuine and his commitment to the sport is infectious.

As you can no doubt tell, I am a big Jeremy Jones fan. I have recommended him to friends who have considered fishing in the Provo area.""
"I am an attorney in San Francisco and an avid fly fisherman. I have fished with guides throughout the lower 48 and Alaska on numerous occasions. I think I have a good sense of what it takes to be a good fishing guide. The best guides have three main qualities. First, they are excellent fishermen in their own right. Second, they have a unique and specialized understanding of the area being fished. Third, they are great 'people' people.

I am sure there are many guides in the Provo area with great fishing skills and a good knowledge of the Provo River. I am not sure there are any who surpass Jeremy. Having fished with Jeremy on many occasions over the past several years, I have come to appreciate not only his skills as a fisherman, but the depth of his knowledge of the Provo fishery. I have never failed to catch fish, and my colleagues who have joined me have been similarly successful. My son still talks about how much fun we had with Jeremy a few years back.

What sets Jeremy apart, however, is what typically separates great guides from good guides. That is the service ethic. Jeremy is always on time, prepared, friendly, and professional. He is willing to stay late when we are into a good rise and is always patient when we mess things up. His enthusiasm is genuine and his commitment to the sport is infectious.

As you can no doubt tell, I am a big Jeremy Jones fan. I have recommended him to friends who have considered fishing in the Provo area."

Mike Lucey

Guest
"Mastercard's successful 'Priceless' advertising campaign sums up my relationship with Jeremy Jones. I first met Jeremy nearly seven years ago when we fished the lower Provo River together on a snowy February day. We had a great day that day and I have had many great days since.
When my youngest daughter, Liz graduated from high school three years ago we spent a week fishing with Jeremy. She's now a third year engineering student at Virginia Tech and we have fished together in California, Tennessee, North Carolina, and Virginia, but her favorite has always been that Utah week with Jeremy.

That is priceless. You can see it on her face.

Great guides are hard to find. Great friends are even harder to find. If you find someone who is both you are blessed. I have that with Jeremy. He understands the fishery, he understands me. That is priceless."

Bill Naehle

Guest
"My husband and I recently vacationed in Deer Valley, UT to celebrate his 50th birthday. The absolute highlight of our trip was our fly fishing excursion on the Provo River with Jeremy of Wasatch Guide Service. I was a bit reluctant about the fly fishing since neither my husband nor I had ever done it before, but Jeremy turned us into pros before the day was over. Not only did he teach us the technique of fly fishing but he also taught us about the river and the fish. The best part was we caught lots of fish! We had booked only the half day excursion, but I could have easily fished the entire day. Jeremy was so professional, but at the same time very easy to be around. He took care of our every need. Thanks to Jeremy it was an exceptional day on the Provo!"

Anna Smith

Guest
"Wasatch Guide Service was recommended to me by an experienced fishing guide. My father, brother-in-law, and myself had high expectations as we love to fly fish and Jeremy came with high praise. From booking to fishing, I'm pleased to say that our experience with Wasatch was world-class.

Eric and Clarence were our guides for a full-day of fishing on the Provo River. They were great guides to fish with, and put us on monster trout in beautiful waters. Moreover, they kindly improved our fishing technique throughout the day, which we found to be invaluable. They even handled transportation, lunch, and provided our equipment. Awesome guys no doubt. By the end of the day, they made our fishing experience a lifetime memory that none of us will forget.

Whether it's having the opportunity to catch trophy trout in a scenic setting, or simply enjoying time on the river with excellent fishing guides, I encourage you to call Jeremy with Wasatch Guide Service."

Jack Graham

Guest